GARANZIA3 DISPLAY is the technical assistance service aimed at a single repair of the screen exclusively in case of accidental damage for a duration of 12 months from the date of activation of the chosen certificate.
A SAFE WAY TO SAVE MONEY
The purchase of GARANZIA3 DISPLAY is, in fact, much less expensive than a repair for accidental damage.
In the event of accidental damage to the product, GARANZIA3 DISPLAY will give you the right to a single repair of the screen in the first 12 months from the date of activation of the certificate.
GARANZIA3 DISPLAY must be activated exclusively by downloading the specific Garanzia3 App from Google Play, Apple Store or AppGallery on a product with an intact and working display.



The technical service extension Warranty3 DISPLAY has 12 months coverage from the date of certificate activation – but renewable by repeating the activation on the App – and applies to all consumer electronics products such as:
Why choose Garanzia3 DISPLAY:
is the only extension that can be used for NEW, USED and RECONDITIONED products;
is the only extension that does not apply ANY FRANCHISE to the user on the repair;
ACTIVATE it by downloading the specific GARANZIA3 DISPLAY APP to take advantage of the services.
In order to best meet the customer's needs, GARANZIA3 DISPLAY has 5 types of product depending on the cost of the device purchased.
DOWNLOAD THE REGULATION IN PDF FORMAT
Getting in touch with our Customer Service Department to get all the details on the service is very easy, just call the toll-free number (Monday to Friday from 10 a.m. to 5 p.m.).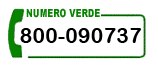 IN ORDER TO TAKE ADVANTAGE OF THE GARANZIA3 DISPLAY SERVICES, YOU MUST ACTIVATE THE DISPLAY COVERAGE OF THE DEVICE YOU WANT TO PROTECT BY DOWNLOADING THE GARANZIA3 APP ON THAT DEVICE.
SIMPLY FOLLOW THE INSTRUCTIONS AND STEPS IN THE APP TO ACTIVATE THE WARRANTY3 DISPLAY.
In the activation process it will be necessary to send a photo of the display taken at the mirror.
SENDING A PHOTO OTHER THAN THE DISPLAY OF THE DEVICE YOU WISH TO PROTECT WILL AFFECT THE PROCESS OF CORRECT ACTIVATION OF THE WARRANTY3-DISPLAY SERVICE AND THEREFORE THE PROVISION OF THE SERVICE.